This shop has been compensated by Collective Bias, Inc. and its advertiser. All opinions are mine alone. #JohnsonsLovesBaby #ChooseGentle #CollectiveBias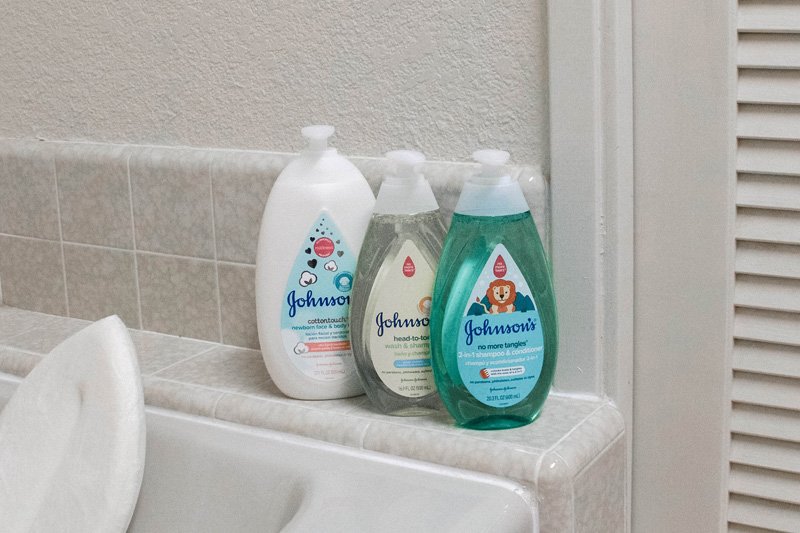 ^^Hover over this photo and click on the product to shop it at CVS
Bedtime, every mom's favorite time of the day, with nap time being a close second. Haha! Just kidding. I love when my girls are awake too. But I also love that they are good little sleepers. One of the biggest reasons I think they sleep so well, is because we have a consistent bedtime routine. Bath, lotion, books, songs, sleep. We use JOHNSON'S® baby products for our bedtime routine. They are new and improved, inside and out. They have 50% fewer ingredients than before and are free of parabens, phthalates, dyes, and sulfate. They are also very gentle and calming. A calm routine helps the girls fall asleep, stay asleep, and wake up well rested.
I like to allow plenty of time for our bedtime routine so that it's a calm process and doesn't feel rushed or stressed. When Cody's home to help with bedtime, I allow 30 minutes. When he's working and I'm doing it by myself, I allow 45 minutes.
Bath time: The first step in our bedtime routine is a bath. Hazel gets a bath every night and Iris gets one every other night (once she starts crawling, she'll get one every night too). I use JOHNSON'S® Head-to-Toe Baby Wash and Shampoo on Hazel's body and on Iris' head and body. It's gentle enough for newborns but also great for the whole family. It also has JOHNSON'S® No More Tears formula so I don't have to worry about it stinging their eyes. Since Hazel's hair is getting so long, I use JOHNSON'S® No More Tangles 2-in-1 Shampoo and Conditioner on her hair. I typically bathe Iris first (Hazel likes to help me) and then pass her off to Cody while I finish bathing Hazel. If I'm doing bedtime solo, I bathe both girls, then get Iris out, lotioned, and in pjs while Hazel plays in the tub.
Lotion + Pjs: After bathtime, comes a lotion massage for the girls. Doing the two-step wash and lotion routine is proven to build a stronger connection between mom and baby, so this is a step we never skip. We use JOHNSON'S® COTTONTOUCH™ Newborn Face and Body Lotion. It's specially designed for newborns delicate skin, and is so so soft. Lotion time is probably Hazel's favorite part of our bedtime routine. She loves to help me pump out the lotion. She's always asking "Need more lotion MomMom?" Haha! While I'm lotioning up her body, she pumps lotion into her hand and rubs it on her face.
Brush Teeth and Hair: Hazel and I take turns brushing her teeth, then I brush both girls' hair.
<<Cody used to do lotion, pj's, brush hair, and brush teeth with Hazel while I nursed Iris, but sadly, I'm no longer nursing.>>
Read Books + Sing Songs (+a bottle for Iris): We all head into Hazel's room where I have the white noise machine on. Cody sits in the rocking chair to give Iris her bottle while Hazel and I sit on the floor and read books. Hazel usually picks out three books for us to read. After we read books, we turn the light off, Hazel crawls into my lap with her favorite bunny, and I sing two songs. If Cody is working and it's just me putting the girls to bed, I rock Iris while feeding her a bottle and read a book to both girls. Hazel either plays in her room while I read or I put her in her crib. It just kind of depends on how she's behaving. Then I put her in her crib, turn out the lights, and sing our two bedtime songs.
Goodnight Kisses: We kiss Hazel goodnight, put her to bed, and cover her with a blanket. I always tell her "I had a fun day with you today. Good night. Sweet dreams. I love you." She has started telling me what she had fun doing that day (recapping her day), and then tells me "sweet dreams" and "I love you". It's so sweet! Then we head into Iris' room where I have on her night light and white noise machine. Cody tells her goodnight and gives her to me to finish giving her the bottle and rock her to sleep. I sing Iris songs while feeding and rocking her, then put her in her crib while she's still awake. Usually within 10 minutes, she's asleep for the night.
We get all our JOHNSON'S® baby products at CVS. I always know CVS is going to have the best products, and I won't have to go to multiple stores to find what I need. Nobody has time for that with two kids. Haha! Right now, CVS has a special happening – Buy 1, Get 1 50% on JOHNSON'S® Baby + Spend $20, Get $5 ExtraBucks.
XO, Kacie